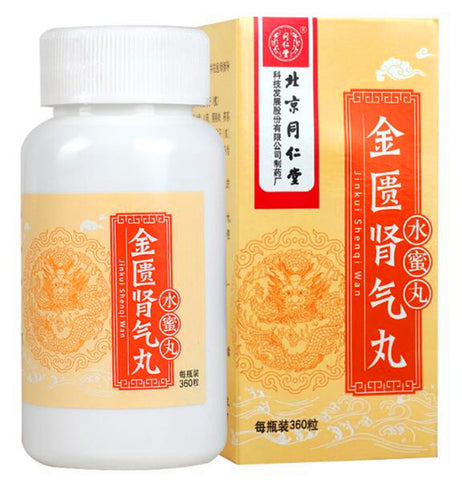 Jin Kui Shen Qi Wan (360 pills) Deficiency of kidney-yang 金匮肾气丸 TongRenTang
Hello, Dear customer, Because Paypal don't accept Chinese Herb products now .so my shop can not pay directly .very sorry !
If you need order. please let me know . I will give you another channel . you can order from there. Thanks!

If you have any experience for pay to China ,please share to me ,Many thanks !
Keep Healthy !
Email : ChineseHerbal@qq.com
——————————————————————————————————
Free Shipping !
Please Note:
- Import duties, taxes and charges are not included in the item price or shipping charges. These charges are the buyer responsibility.
- Please check with your country customs office to determine what these additional costs will be prior to bidding/buying
Brand:Tong Ren Tang
Functions and Indications: Herb for deficiency of kidney-yang problem.
The medicine is suitable for Yang-deficiency constitution:
    If one doesn't have enough Yang Qi,they won't have the strength to move and their blood won't circulate enough.If a person has Yang Qi deficiency,he is much possible to form a Yang-deficiency constitution.
    The constitution have something in common:they are sensitive to cold;they have cold hand and feet;frequently sweat'like to eat and drink hot things;lack energy and sleep a bit more.
    It can frequently cause heart problems,arrhythmia,and what we call Yang hypoactivity  in the chest,There's also the weakening of thyroid gland functions.some women also experience the painful menstrual cycles or uterine myomas.
The constitution is from the deficiency of  Yang Qi and Yang Qi comes from the congenital Qi of their parents as well as the postnatal  Qi of their respiration and the essential Qi of water and cereals produced by the spleen and stomach.It can heat and nourish the body's tissue and maintain organ functions.
    As one grows older or due to certain other reasons which lead ro the deficiency of  Yang Qi,physiological activity will weaken or decline and the body's resistance to cold will decline too.
Composition: 
Radix Rehmanniae (shou di)
Fructus Corni (shan zhu yu)
Rhizoina Diosco Reae (shan yao)
Cortex Moutan (mu dan pi)
Poria (fu ling)
Rhizoma Alismatis (ze xie)
Cortex Cinnamomi (rou gui)
Radix Achyranthis Bidentatae (niu xi)
Radix Polygoni Mulitflori (he shou wu)
Fructus Lycii (gou qi zi)
Fructus Schisandrae (wu wei zi)
Radix Aconiti Lateralis Preparata (zhi fu zi)


Dosage and Administration:
To take orally, 20-25 pills per time; twice a day(use it before meal or use it with meal )
Cautions: 
1. Avoid cold food; angry.
2. Do not used the cold-remedy medicine at one time when use this medicine.
3, Pregnant woman don't use it.
4,If you have diabetes,Chronic nephritis, hypertension, heart disease,don't use the medicine.
5, It should not be used when the character of this medicine has changed.
6, Children should be administered under the supervision of adult.
7, It should be kept out of reach of children.
8, If in process of using other medicine, please consult physician or chemist before using this medicine.
Storage : Store (keep) in a cool and dry place,protect from light (heat).
Product Name :JinKui ShenQi Wan 金匮肾气丸
Packing: 360 pills/one box 
Manufacturer : Bei Jing TongRenTang Pharmaceutical  Co. Ltd 
【商品名称】同仁堂金匮肾气丸(水蜜丸)

【通用名称】金匮肾气丸

【成份】地黄、山茱萸(酒炙)、山药、茯苓、牡丹皮、泽泻、桂枝、附子(炙)、牛膝(去头)、车前子(盐炙)。辅料为蜂蜜。

【性状】本品为黑褐色的小蜜丸;味甜而带酸辛。

【适应症】温补肾阳,化气行水。用于肾虚水肿,腰膝酸软,小便不利,畏寒肢冷。

【用法用量】口服,一次20粒(4g)~25粒(5g),一日2次。

【不良反应】尚不明确。

【禁忌】孕妇忌服。

【注意事项】

1.不宜和外感药同时服用。
2.服本药时不宜同时服用赤石脂或其制剂。
3.本品中有肉桂属温热药,不适用于具有口干舌燥,烦燥气急,便干尿黄症状的糖尿病,慢性肾炎,高血压,心脏病的患者。
4.按照用法用量服用,小儿及年老体虚者应在医师指导下服用。
5.本品宜饭前服或进食同时服。
6.服药二周后症状无改善,或出现食欲不振,头痛,胃脘不适等症状时,应去医院就诊。
7.药品性状发生改变时禁止服用。
8.儿童必须在成人的监护下使用。
9.请将此药品放在儿童不能接触的地方。
10.如正在服用其他药品,使用本品前请咨询医师或药师。

【执行标准】部颁标准中药成方制剂第二十册

【批准文号】国药准字Z11020147

【贮藏】密封。

【有效期】36个月

【生产企业】北京同仁堂科技发展股份有限公司制药厂