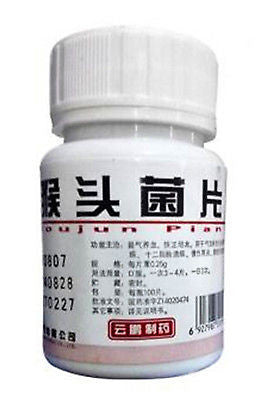 Hou Tou Jun Pian (Hericium Erinaceus Tablets)( Lion's Mane mushroom Tablets) (100 tablets) 猴头菌片 YunPeng
Hello, Dear customer, Because Paypal don't accept Chinese Herb products now .so my shop can not pay directly .very sorry !
If you need order. please let me know . I will give you another channel . you can order from there. Thanks!

If you have any experience for pay to China ,please share to me ,Many thanks !
Keep Healthy !
Email : ChineseHerbal@qq.com
——————————————————————————————————
Free Shipping !

Please Note:
- Import duties, taxes and charges are not included in the item price or shipping charges. These charges are the buyer responsibility.
- Please check with your country customs office to determine what these additional costs will be prior to bidding/buying
Brand: Yun Peng
Functions and Indications: 
For gastric ulcer, duodenal ulcer, chronic gastritis, atrophic gastritis
Main Ingredients: Hericium erinaceus mycelium
Dosage and Administration: 3-4 tablet at one time, three times daily, after each meal. Take orally with warm water. 
Cautions: 
1,  The diet should be light, avoid tobacco, alcohol and spicy, cold, greasy food
2, Avoid emotional and sulk.
3, Hypertension, heart disease, liver disease, diabetes, kidney disease and other serious chronic diseases should be taken under the guidance of the physician.
4, Medication three days of symptoms to remission, should go to the hospital.
5, Children, pregnant women, the elderly and infirm should be taken under the guidance of a doctor.
6, Disable this allergy, allergic caution.
7, Prohibit the use of the characteristics of the product change.
8, Children must be under adult supervision.
9, Keep away from the place where children can not reach.
10,  If you are using other products, please consult your physician or pharmacist before using this.
Storage : Store (keep) in a cool and dry place,protect from light (heat).
Product Name :HouTouJun Pian (Hericium Erinaceus Tablets)( Lion's Mane mushroom Tablets) 猴头菌片
Packing: 100 tablets/one box 
Manufacturer : ShanXi YunPeng Pharmaceutical  Co. Ltd 
商品名称:猴头菌片
【主要成份】 猴头菌丝体。
【性 状】 本品为糖衣片,除去糖衣后呈棕褐色;气微香、味微苦。
【适应症/功能主治】 益气养血,扶正培本。用于气血病症引起的胃溃疡、十二指肠溃疡、慢性胃炎、萎缩性胃炎等。
【规格型号】0.25g*100s
【用法用量】口服,一次3~4片,一日3次。
【不良反应】尚不明确。
【禁 忌】尚不明确。
【注意事项】 1、饮食宜清淡,忌烟、酒及辛辣、生冷、油腻食物。 2、忌情绪激动及生闷气。 3、有高血压、心脏病、肝病、糖尿病、肾病等慢性病严重者应在医师指导下服用。 4、服药三天症状未缓解,应去医院就诊。 5、儿童、孕妇、年老体弱者应在医师指导下服用。 6、对本品过敏者禁用,过敏体质者慎用。 7、当药品性状发生改变时禁止服用。 8、儿童必须在成人的监护下服用。
【药物相互作用】如与其他药物同时使用可能会发生药物相互作用,详情请咨询医师或药师。
【贮 藏】密封。
【包 装】每瓶100片。
【有 效 期】24 月
【批准文号】国药准字Z14020474
【生产企业】山西云鹏制药有限公司