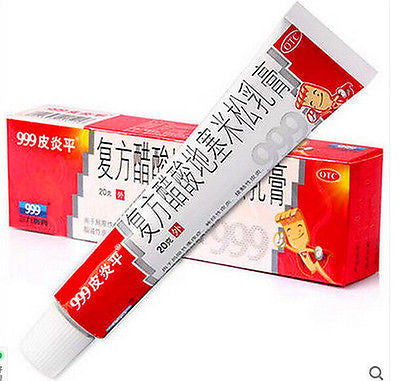 Pi Yan Ping Compound Dexamethasone Acetate Ointment (20g) Skin allergies Itchiness 复方醋酸地塞米松乳膏(皮炎平) 999
Hello, Dear customer, Because Paypal don't accept Chinese Herb products now .so my shop can not pay directly .very sorry !
If you need order. please let me know . I will give you another channel . you can order from there. Thanks!

If you have any experience for pay to China ,please share to me ,Many thanks !
Keep Healthy !
Email : ChineseHerbal@qq.com
——————————————————————————————————
 Free Shipping !
Please Note:
- Import duties, taxes and charges are not included in the item price or shipping charges. These charges are the buyer responsibility.
- Please check with your country customs office to determine what these additional costs will be prior to bidding/buying
Brand: 999
Functions and Indications:  
Highly effective for all kinds of skin allergies, itchiness and troubled skin.
For the temporary relief of itching associated with minor skin irritations, inflammation and rashes due to poison ivy, poison oak or poison  sumac, insect bites
For use eczema, soaps, detergents, cosmetics, jewelry, seborrheic dermatitis.
Other uses of this product should be only under the advice and supervision of a physician.
Composition: Contains 0.075% Dexamethasone, 1% Camphor, 1% menthol

Dosage and Administration:  Washing the infected skin first, and surrounding area with soap and water and dry completely. Washing your hands with soap after contact with the infected area so that you do not spread the infection to yourself or to others. For athlete's foot apply to infected area twice a day morning and night separately for two weeks. For jock itch and ringworm apply to infected area once a day for one week.
Cautions: 
1. Athlete use the medicine with cautious.
2. Don't large-area use it or long-term use it
3, Do not use it if you are pregnant.
4, Consult your herbalist or physician before use if you are taking other medicines.
5, Out of reach of children.
Storage : Store (keep) in a cool and dry place,protect from light (heat).
Product Name :PiYanPing Compound Dexamethasone Acetate Ointment  皮炎平
Packing: 20g/one box 
Manufacturer : South 999 Pharmaceutical Co. Ltd
通用名称:复方醋酸地塞米松乳膏   
英文名称:Compound Dexamethasone Aceta 

汉语拼音:Fufang Cusuandisaimisong Rugao   
主要成份:醋酸地塞米松 薄荷脑 樟脑   
性 状:本品为白色乳膏,有樟脑的特异芳香。   
适 应 症:用于局限性瘙痒症、神经性皮炎、接触性皮炎、脂溢性皮炎以及慢性湿疹。   
用法用量:外用。一日1~2次,取少量涂于患处,并轻柔片刻。   
禁 忌: 1.患处已破溃、化脓或有明显渗出者禁用。 2.病毒感染者(如有疱疹、水痘)禁用。  
注意事项
1.避免接触眼睛和其他黏膜(如口、鼻等)。   
2.孕妇、哺乳期妇女慎用。   
3.不宜大面积、长期使用,否则容易患上依赖性皮炎。   
4.用药部位如有烧灼感、红肿等情况应停药,并将局部洗净,必要时向医师咨询。   
5.如并发细菌或真菌感染,请咨询医师处理。   
6.本品对过敏者禁用,过敏体质者慎用。   
7.本品性状发生改变时禁止使用。   
8.请将本品放在儿童不能接触的地方。   
9.儿童必须在成人监护下使用。   
10.如正在使用其他药品,使用本品前请咨询医师或药师。   
贮 藏:密封,在阴凉处(不超过20℃)保存。   
规 格: 20g/支  
有 效 期: 二年